ASK US ABOUT A FREE LASER TREATMENT!
Reduced spasm / Pain Relief / Increased circulation
Improved flexibility and function / Improved healing
Reduced symptoms associated with osteoarthritis
TOP TEN BIOLOGICAL EFFECTS OF LASER THERAPY

1.Anti-inflammation
2.Anti-Pain (Analgesic)
3.Accelerated Tissue Repair and Cell Growth
4.Improved Vascular Activity
5.Increased Metabolic Activity
6.Trigger Points and Acupuncture Points
7.Reduced Fibrous Tissue Formation
8.Improved Nerve Function
9.Immunoregulation
10.Faster Wound Healing
Click here to watch a short testimonial video
Here are a list of conditions that have been successfully treated by Veterinarians with Laser Therapy
Arthritis

Lick granulomas

Fractures

Post surgical

Acute & chronic otitis

Oral surgery/ extractions/ gingivitis/ stomatitis
Intervertebral disc disease
Hip dysplasia
Trauma
Cystitis
Sprains & strains
Inflammatory bowel disease (IBD)
Dermatitis/ hot spots
Feline asthma
Rhinits/sinusitis
Wounds
Bug/spider bites, snake bites
Acupuncture
Laser therapy is the use of specific wavelengths of light to treat painful and debilitating conditions.
Light energy enters the damaged cells and stimulates inter-cellular activity. This reduces pain in the area and speeds recovery of the damaged cells. Once the cells recover, the healing process is complete.
Effects of MLS Laser Therapy:
Reduced Inflammation (Vasodilation and Activation of Lymphatic Drainage System)
Reduced Pain (Blocks Pain Signals Transmitted to Nerve Cells)
Accelerated Tissue Repair and Cell Growth
Improved Vascular Activity
Increases Metabolic Activity
Stimulation of Trigger and Acupuncture Points
Reduced Fibrous Tissue Formation from Cuts, Burns, etc.
Improved Nerve Function
Immunoregulation
Faster Wound Healing (Stimulation of Fibroblast Development)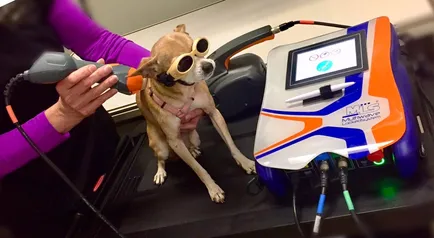 Laser Therapy
MLS Laser Therapy reduces inflammation, reduces pain, and helps wounds heal faster. Ask your veterinarian about treating your pet that is experiencing: arthritis, tendonitis, wounds, post-surgical swelling, inflamed ears, lick granuloma, hip dysplasia, disc disease, lameness, sinusitis, and other inflammatory conditions!
Laser Surgery
If your pet is in need of surgery, ask your veterinarian about using a surgical laser for the procedure. Laser surgery benefits your pet due from less pain, less bleeding, less swelling, and a reduced risk of infection. With laser surgery your pet will recover quicker and return home sooner!