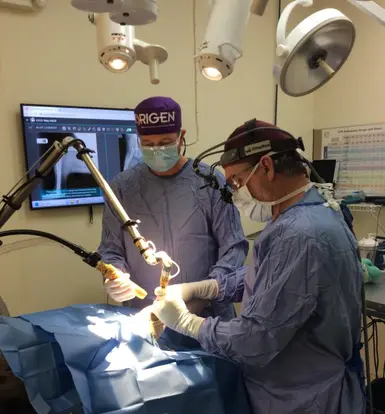 What is Orthopedic Surgery?
Orthopedic surgery is an umbrella term for the surgical repair of a joint or bone fracture. Pets that have suffered from a bone injury or have a congenital disorder may need orthopedic surgery to ensure that everything heals properly and they retain as much mobility as possible. In order for bone surgery to be performed, you'll typically be referred to a vet with specialized training. At Carolinas Veterinary Medical Hospital, we will care for your pet and perform surgery in-house.
What Can You Expect During Your First Visit?
Dr. Watson will examine your pet and help identify any conditions during your initial visit. Typically, a bone injury is caused by trauma that occurs during an accident, such as falling or jumping. However, some breeds are predisposed to hereditary conditions and may require orthopedic surgery. Dr. Watson will be able to determine the underlining cause and what type of surgery is best.
The Importance of Orthopedic Exams
If you've noticed that your furry friend has a persistent limp, discomfort, or joints that are dislocated or popping, we recommend visiting our vets for an examination and to determine a suitable treatment. We can identify what caused your pet's injury and help them heal. Not only that, exams allow our vets to detect any conditions early and decide whether your cat or dog will need surgery or another treatment. If surgery is necessary, we will explain the process to you and provide instructions for post-operative care.
Contact us for an Appointment Today
After we have repaired a joint or bone that was injured, our team at Carolinas Veterinary Medical Hospital will continue to monitor your pet to ensure that the affected area heals as intended and that no further treatment is needed. Should you have any questions or concerns following the surgery, our staff will be able to help. For more information or to schedule your visit, give us a call today at (704) 752-7227. We proudly serve Charlotte, NC and surrounding areas, including (but not limited to) Fort Mill, Gastonia, Lake Wylie, Clover, Rock Hill and Indian Land.