Microchipping for your Pets
Protect your Cats and Dogs from getting lost
What would you do if your pet got lost? Over 10 million pets get lost each year! Without appropriate identification over 90% do not return home.
Microchipping saves lives by supplying your pet with a permanent form of ID.
We are pleased to offer HomeAgain microchipping services here at Carolinas Veterinary Medical Hospital. HomeAgain offers the safest, most advanced chips available to your pet.
A microchip is a very small device inserted between the shoulder blades under the skin. Each tiny chip displays a number that is linked to your pet. If your pet should get lost, all veterinary hospitals and shelters nation wide are equipped with scanners that will quickly read the number and reunite your lost friend. It is as simple as receiving an injection and takes about 3 minutes. All of the paper work is handled in-house at Carolinas Veterinary Medical Hospital.
So, make certain that if your friend should stray--------that he / she is able to make it Home Again!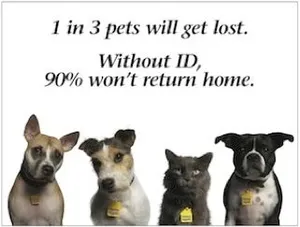 CONTACT US ANYTIME FOR MORE INFORMATION