Overnight Boarding Services for your Pets

Cat Boarding: $28.00 per night
We have special "kitty condos" designed with perches and openings to climb through. Cats board in a separate, quiet area away from the dogs boarding. They also have three viewing windows to the outside.
At CAMP CVMH all of our kitties in boarding are provided:
* Warm beds * Cat nip toys * Scratching posts (if they have their claws) *Towers to hide or play in * Dry or canned Purina EN food by preference
---
Dog Boarding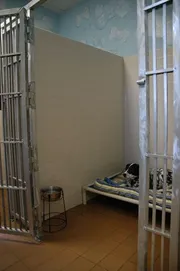 All dogs stay in an indoor climate controlled environment with indoor / outdoor play areas
* A Raised cot * Warm bed * Ample playtime and tons of love & individualized attention * Dry or Canned Purina EN food by preference
Our CVMH family strives for personalized attention, comfort, and a stress free environment for each and every pet. We specialize in accommodating elderly pets, pets with diabetes and requiring insulin, pet's requiring allergy injections, and nervous pets. When your pet boards at CVMH they are part of our family.
Dogs <40lbs: $36.00 per night
Dogs 41-80lbs : $40.00 per night
Dogs >80lbs: $44.00 per night
Monday - Thursday Drop-off and Pick-up from 7:30am till 6pm
Friday Drop-off and Pick-up from 7:30am till 5pm
Holiday Boarding Cancellation Policy
Due to high demand for holiday and peak weekend boarding, all future holiday reservations will now require a deposit in the amount of $50 per pet, effective July 1st, 2019.
You may cancel your reservation up to 7 days prior to your scheduled date of arrival and get 100% of your deposit refunded. If you cancel any time after or you fail to show up for your reservation, you will forfeit the entire deposit.
We understand that last minute changes may occur, but we ask that you please give us a courtesy call as soon as possible, so we can allow availability for another guest.
The following holidays and peak weekends will be included in our new deposit policy:

New Years Day
Martin Luther King Day (weekend prior)
CMS Schools Spring Break
Easter Weekend
Mother's Day Weekend
Memorial Day (weekend prior)
Father's Day Weekend
Independence Day
Labor Day (weekend prior)
Veteran's Day (weekend prior)
Thanksgiving (weekend before/after included)
Christmas Eve (weekend before/after included)
Christmas Day (weekend before/after included)
New Years Eve (weekend before/after included)
---
Daycare Packages
Drop-Off and Pick-up from 7:30am till 6pm
Monday through Thursday
7:30am until 5pm Friday
Dog Weight lbs.
One Day Pass
Five Day Pass
*Save $5 ($1 a day!)
Ten Day Pass
*Save $20 Total ($2 a day!)
Twenty Day Pass
*Save $60 Total ($3 a day!)
Fifty Day Pass
*Save $200 Total ($4 a day!)

<40

$18

$85
(Save $1 per day)
$160
(Save $2 per day)
$300
(Save $3 per day)
$700
(Save $4 per day)

41-80

$20

$95
(Save $1 per day)
$180
(Save $2 per day)
$340
Save $3 per day)
$800
(Save $4 per day)

>81

$22

$105
(Save $1 per day)
$200
(Save $2 per day)
$380
(Save $3 per day)
$900
(Save $4 per day)